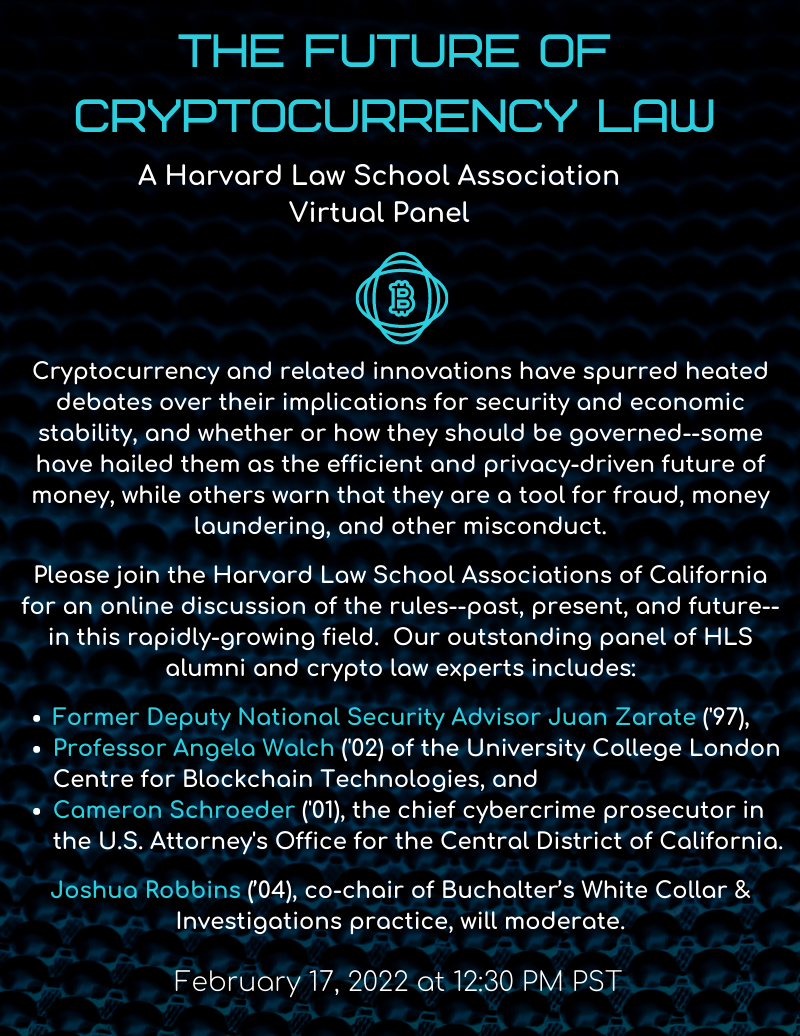 The Future of Cryptocurrency Law
Please join the Harvard Law School Associations of California and the HLS Women's Alliance for an online discussion of the rules--past, present, and future--in the cryptocurrency field.
Please join us for a program sponsored by the Orange County, Los Angeles, Northern California, San Diego, and Women's Alliance Harvard Law School Associations on the future of the law of cryptocurrency with a panel of distinguished experts and HLS alumni. The panel, which includes Former Deputy National Security Adviser Juan Zarate ('97), cryptocurrency law expert and Professor Angela Walch ('02), and federal cybercrime prosecutor Cameron Schroeder ('01), will be moderated by Joshua Robbins ('04) of Buchalter.

Topics will include:
What societal risks—such as fraud, money laundering, financial instability, and environmental impact—does cryptocurrency pose, and how can governments address this without stifling its benefits?




Should and will cryptocurrency be regulated as currency? Securities? Neither? Both?




What agencies of the federal government should be involved in regulating cryptocurrency and prosecuting related crimes?




What are the prospects for Congressional action on cryptocurrency?




How does the U.S. approach to cryptocurrency regulation compare to those of other countries?
Whether you are a total skeptic or a total fan of cryptocurrency, and regardless of your field of practice or your profession, this program will leave you enlightened.

Don't miss it!
Event Information
Questions about this event? Please contact sbarrett@buchalter.com.
If you would like to submit a question to our panelists, please email sbarrett@buchalter.com.
When:
12:30PM Thu 17 Feb 2022, Pacific timezone

Virtual Event Instructions:
Please RSVP below. Registrants will be sent the Zoom link closer to the event.
Enter Waitlist Here...
p