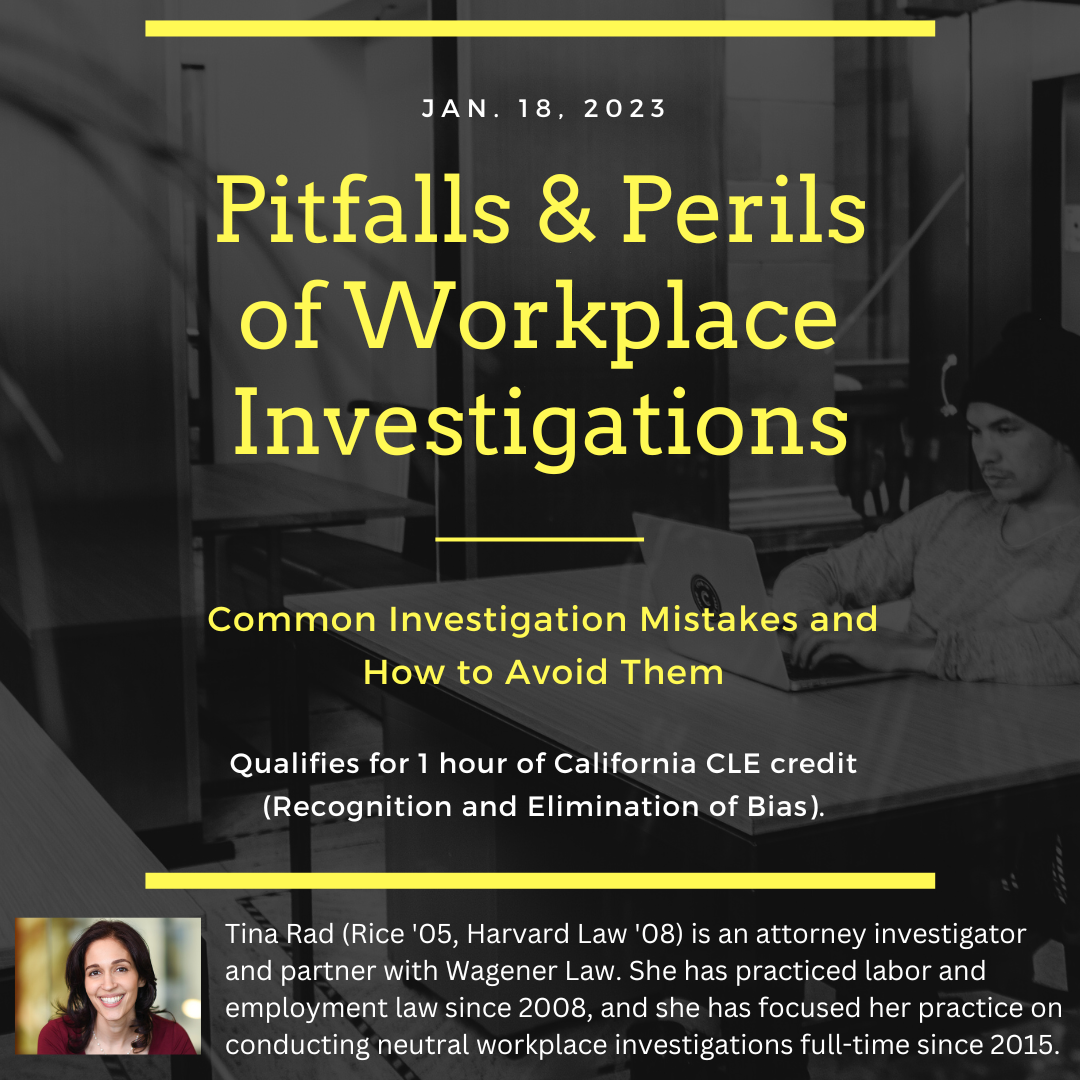 Pitfalls and Perils of Workplace Investigations: Common Investigation Mistakes & How to Avoid Them
1 hour California MCLE: Elimination of Bias
In this complimentary CLE course, attorney and workplace investigator Tina Rad (Harvard Law School '08) walks you through common pitfalls and perils that can arise when conducting workplace investigations. Tina will discuss the benefits of a proper investigation, the potential consequences of narrow investigations (or no investigation), and the risks for liability. She also focuses on how attorneys can recognize and avoid implicit bias and other biases when conducting or overseeing workplace investigations. This presentation provides a roadmap of the techniques and elements of an effective investigation so that employers can understand and address workplace concerns appropriately.

12:00 to 1:00 PM on Wednesday, Jan. 18, 2023
Zoom link: https://us02web.zoom.us/j/81159750585
Webinar ID: 811 5975 0585
This event is free, but registration is required.
---
Materials will be emailed to you before the webinar. In order to receive your certificate of attendance after the presentation, please provide your California State Bar Number by filling out this form.

Questions: Contact Patty Le-Narula (HarvardInterviewer@gmail.com or 714-496-3514)
Event Information
When:
12:00PM - 1:00PM Wed 18 Jan 2023, Pacific timezone

Virtual Event Instructions:
RSVP Here...
Look Who's Coming:
anders on yang
Juliette Tran
Parker Milliken
Monica Arnold
Gail Katz
Benjamin Katzenellenbogen
Knobbe Martens Olson & Bear LLP
Nahal Kazemi
Keller/Anderle LLP
Jason Delia
Irvine Company
Sheila Melo
Gordon Rees Scully Mansukhani
Sung-Hee Suh
PIMCO
Tom Bilello
Pacific Life Ins Co
Sean Shahabi
Jaurigue Law Group
Patty Le-Narula
HLSA
Christal Porter
ADK Heritage Law
Esther Buckley
Amgen Inc.
Juan Angel Matamala Gonzalez
Charles River Associates
Mario Moore
Dan Johnson Law Group
Daniel Eaton
Seltzer Caplan et al.
justine leung
hawk ridge capital management
Katherine Duran
Alorica Inc.
Christine Reynolds
Evans Fears & Schuttert LLP
Briana LaBriola
Ogletree Deakins
Liz White
Klingbeil Capital Management
Rose Tsai
Law Offices of Rose W. Tsai & Associates
Deborah Pernice-Knefel
Solo
John Cone
Hall Griffin
Rebekah Thomas
CDF Labor
DeAnn Work
Joshua Lee
Law Office of Joshua Y. Lee
Laurie Rau
Chavos & Rau APLC
James Rumm
Kristine Yen
Roku
Kimberly Stauffer
Michele Landenberger
Rebekah Thomas
CDF Labor
Shirin Forootan
Forootan Law
Janet Ariza
Martin & Martin LLP
Jessica Ruswick
Chris Harmon
Lewis Brisbois
Michele Landenberger
Emily Massey
Krystal Anderson
Holland and Knight
Sally Davis
Live Oak Banking Company
Krystal Anderson
Holland and Knight
Kate Jorgensen
Live Oak Bank
Anna Stultz
Aryan Vahedy
Best Best & Krieger
... a total of 86 guests.
Note: to opt out from this list please sign in, go to My Account and change your preferences under My RSVPs.