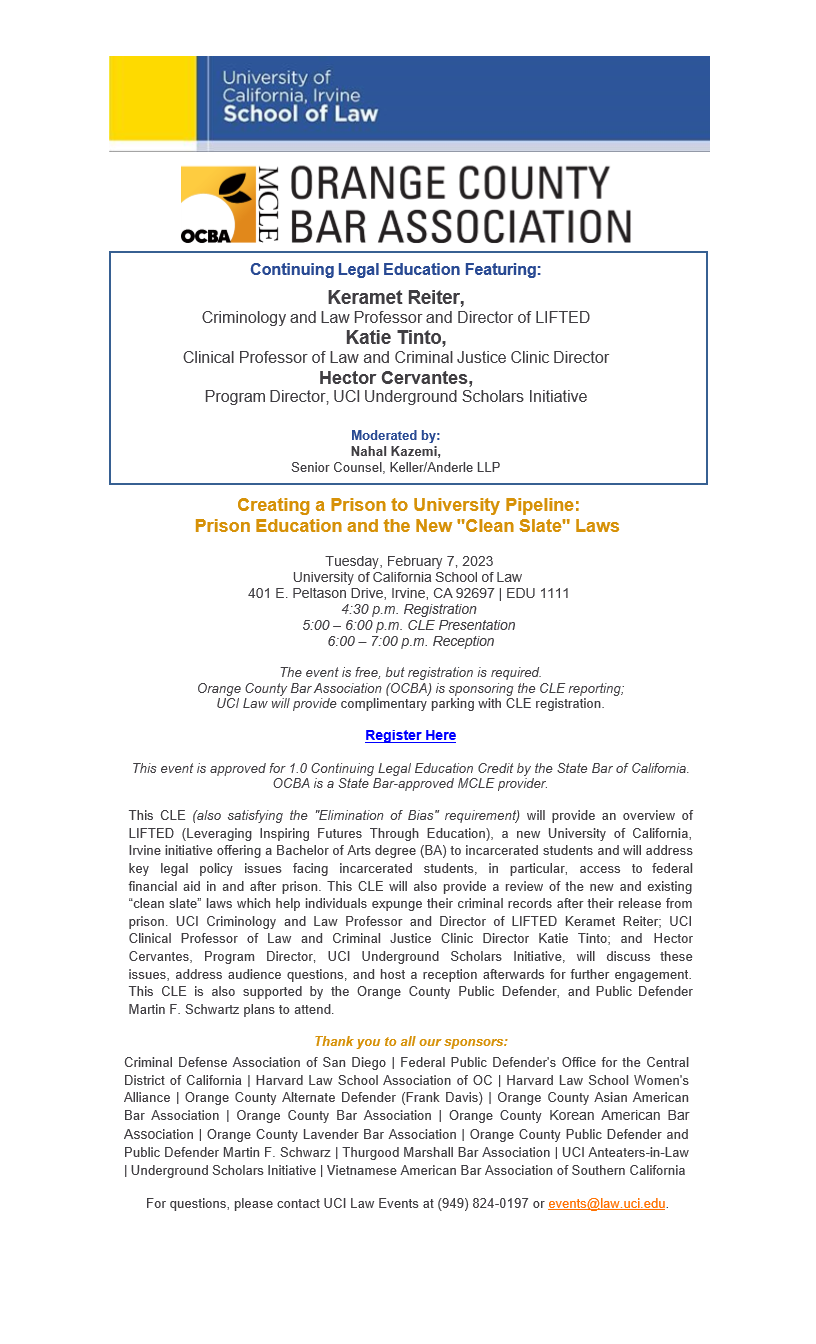 Creating a Prison to University Pipeline
Prison Education and the New "Clean Slate" Laws
This CLE (satisfying the "Elimination of Bias" requirement) will provide an overview of
LIFTED (Leveraging Inspiring Futures Through Education), a new University of California,
Irvine initiative offering a Bachelor of Arts degree (BA) to incarcerated students and will address
key legal policy issues facing incarcerated students, in particular, access to federal
financial aid in and after prison. This CLE will also provide a review of the new and existing
"clean slate" laws which help individuals expunge their criminal records after their release from
prison.
Panelists:
Keramet Reiter (Harvard AB '03): UCI Criminology and Law Professor and Director of LIFTED
Katie Tinto: UCI Clinical Professor of Law and Criminal Justice Clinic Director
Hector Cervantes: Program Director, UCI Underground Scholars Initiative
**Moderated by Nahal Kazemi (Harvard AB '02, JD '04), Senior Counsel, Keller/Anderle LLP
---
When: 4:30 PM on Tuesday, Feb. 7
Where: UC Irvine Law School (401 E. Peltason Drive, Irvine, CA 92697)
Cost: The event is free, but registration is required. UCI Law will provide complimentary parking.
Questions: Contact Patty Le-Narula (HarvardInterviewer@gmail.com or 714-496-3514)
---
If you experience any issues with registration, simply email info@ocbar.org with your name, email address, and organization. We will make sure you are registered and receive a confirmation
Event Information
When:
4:30PM - 7:00PM Tue 7 Feb 2023, Pacific timezone

Where:
UCI Law School
401 E. Peltason Drive
Irvine, CA 92697 US
[ Get Directions ]
RSVP Here...